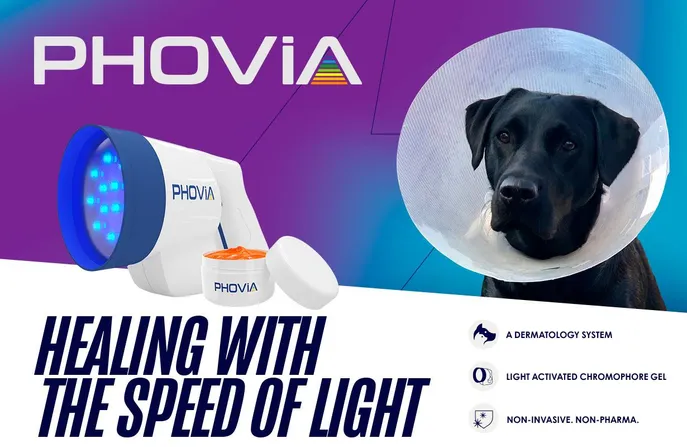 Phovia is an innovative system that uses lasers to help your pet get pain relief and healing from his injuries. It is a quick and easy option to help both large and small animals manage skin problems. If you are looking for holistic and non-invasive treatments for your pet's dermatology issues, we at Apollo Animal Hospital in Surrey, BC, British Columbia are here to help.

What Conditions Can Phovia Help Treat?
Phovia can help treats various dermatological disorders in different types of animals. It can help treat the following skin conditions:
Bite wounds.
Hot spots
Traumatic pet wound
Skin infections
Lesions from continuous licking
Surgical incisions
This therapy is quick and easy. It is painless, safe, and can help promote healing for various skin issues.
What Are the Benefits of Laser Therapy?
Laser therapy has a number of benefits, including the following:
It is non-invasive: This therapy does not involve incisions, injections, or sedation. Pets do not feel much pain or discomfort and are discharged to their owners right after treatment.
It is easy for pets: This treatment is free from almost all side effects. Moreover, unlike many other treatments, Phovia can be performed with the owner, which allows to ease the pet's stress.
It is easy for owners too: Owners do not need to complete any tasks at home between treatment sessions.
It can be used with other treatments: Phovia works perfectly with additional at-home treatments.
Get Pet Care from a Veterinarian on Our Veterinary Team for a Pet Injury or Pet Wound
If you live in Surrey, BC, British Columbia or any other neighboring area in British Columbia, you can schedule Phovia session with us at Apollo Animal Hospital. Our animal hospital treats various conditions and offers a range of veterinary services.
If your pet is suffering from any dermatological issues or pet injury and you want to try Phovia treatment, feel free to contact us. We are ready to answer all your questions and schedule the first consultation with a veterinarian on our veterinary team. Call us at (604) 372-4411 to get pet care from a pet doctor on our team. We are here to help your pet get and stay healthy and help you get peace of mind.